What the_reverend does
my other sites
non-metal pictures
ebola records
DO NOT EMAIL ME AT THE HOTMAIL ACCOUNT
I do not check it ever.
email me @returntothepit.com
User Comments
Subject: hey
a earlier this week i asked people on the myspace if they wanted to hear new music they would have to post a picture of themselves with cmtaib written somewhere on them
this is what i got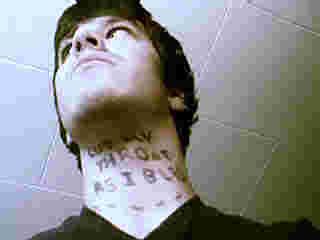 im telling you this 'band' will be bigger than metallica when they were good...

lol
Subject:
I like the way the new page looks! Keepin the real news on the homepage is much better... a breath of fresh air!
Subject:
some people can broadcast live out of the studio. That's why I asked.
Subject:
Hey Rev, I have you and Carina on the guest list for this show (and Scott from Zircon). I would like to meet your girl... hope you can come. Guns and Roses is playing the same night, just down the street. Different audience, but non the less I' have have 2000 flyers made up for DOS to hand out to people as they walk into the G&R show... concert gets out at 10:30 and Goatwhore goes on a little after 11, so the crowd should be really packed.
Subject: Whitty
Dear Sir,

The word is spelled "witty." Please fix at earliest opportunity.

I love the radio show. You play great anti-Racist bands like all that emo, metalcore and Kreator.

I hope your efforts to get Clinton re-elected result in a fascist revolution in America, so we can all see firsthand the horrors (the horror, the horror) of racism, sexism, homophobia and big red flags.

Thanks.
Subject: Thanks for the PICS!
the_network. layout looks fucking awesome and your pictures really step it up a notch. Thanks dude!!
Subject:
comming to see embalmer?
Subject: Pics?
let's see some wedding pics yo!!!!
Subject: wutsup brad
dude u r the fuckin man
Subject: NEDAGF
Are you bringing the lovely Mrs. RTTP to the fest, or have you not figured out how to reanimate dead tissue yet?
Subject: july 1st show
can you take hekseri of and put hachet on it please? I don't know how to change it,thanx bro..

Subject: yes please
valasyrka live on unh? get back to me
Subject:
are you going to vital remains sunday? if so I will have a cd for you
Subject: band page
Hey Aaron, our band page is still under Pinion...and we can't add any shows..and there are 2 old shows displayed that weren't ours....arghhh!

Pinion=Seabeast
Subject:
can you give me the link to that avatar thread? i searched it but nothing came up? thanks niggs
Subject: shows
will you be attending any of the upcoming goreality shows? and would you like to?
Subject:
How does Deconformity make a band page?
Subject: Bass guitarist
I am looking for someone who can shred metal on the bass or even a bassist/siger would be key......................email me
www.deconformity666@yahoo.com

Subject: or..
a dc in 3v plug

please help

xx0x
Subject: Martyrvore on UNH
Hey Rev... we were wondering if this is possible sometime?
Subject: Need metal heads to talk to.
Anyone out there wanting a hardcore 13 year old metal head to talk to...? Caht with me on AIM the screen name is ThePastYears
Subject: pictures
Aaron, did you send me the pictures yet?
Subject:
Just felt I should ask. Would you mind if I posted afew pics from the Kreator show on my gay-ass livejournal?
Subject: Current Playlist Bug
the playlist dosen't work properly. I input mine, and it shows up on everyones page.
Subject: ok
ok but only if i got first..then when you go..you get buried in my b00b
Subject:
Hey reverend, do you know God? Shit, I thought he died!
Subject: hello my son
do you believe?
Subject: say...hi
thanx 4 having this kewl siite,
n-joy ur pix too
c ya
Subject: hi
wanna go jump dirt bikes at the Razer with me?
Subject:
touch me too! but me first i hate sloppy seconds
Subject: Anolon is that the brand?
of thhe cookware stuff you used to have?
it's on slickdeals 127.97
you think we need it?
reg. $435
i want some other things off their too

what do you think?
Subject: test again
old vs new
Carina
x
Subject: my pic
heym thanks for fixing my pic, it's cool, i love seeign the veins in my neck and face. It look slike i'm gonna pop.,
Subject: yo
we gotta pimp this out more, so here i am pimping it
Subject: Your website rules
Subject: what the hell is going on around here, anyway?
Subject: peepee toucher.
i'll let you know when I break it :P
Subject: woooooo
this is cool =)
Carina
xx0x
New Messages